Rogier van Otterloo Award
Most talented
The Rogier van Otterloo Award is presented every summer by Prins Bernhard Cultuurfonds. The winner of this award receives € 5000 and will be invited to write a composition for Jong Metropole in the spirit of Rogier van Otterloo, the late Dutch legendary composer and former chief conductor of the Metropole Orkest. The composition will be performed by Jong Metropole during its next Summer Tour. The Rogier van Otterloo Award encourages the most talented young composer / arranger / conductor / orchestra leader living in the Netherlands to continue his or her own development in the area between classical and pop music.
Potential candidates for this award are being scouted through a broad network of teachers, artistic leaders, programmers, et cetera. An expert jury will then assess the arrangements, compositions and videos sent in by young (maximum 35 years old) contestants and preselect the final candidates. The artistic leadership of Jong Metropole decides upon the final winner.
Winner in 2019
The young composer Damiano Pascarelli (1987) won the Rogier van Otterloo Award 2019. Damiano is a versatile composer, arranger and conductor. He has arranged for the best (jazz) orchestras in Europe and has worked regularly with the Metropole Orkest and with chief conductor Jules Buckley. The jury was impressed by the talent of the Italian student at the Conservatorium of Amsterdam: 'Pascarelli leaves plenty of room in his music, reflects a lyrical expressiveness and especially timeliness: a contemporary approach of composing and arranging in an idiom steeped in history.' Damiano Pascarelli's composition for Jong Metropole will première at the Summer Tour 2021.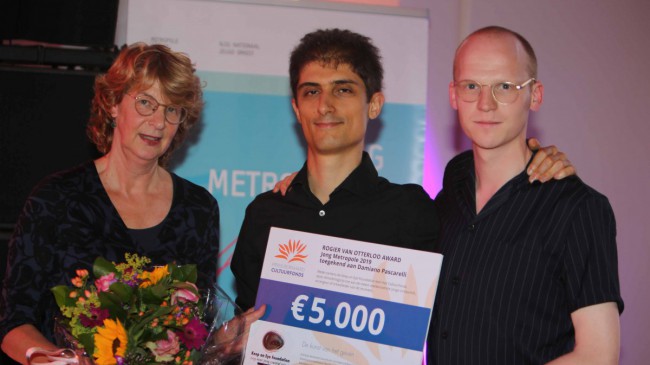 From left to right: Ellen Overweel (Prins Bernhard Cultuurfonds), Damiano Pascarelli (winner 2019) and Tijn Wybenga (winner 2018). Photo: Pieter Kunnen
Former winners
2018: Tijn Wybenga
2017: Jesse Passenier
2016: Zacharias S. Falkenberg
Rogier van Otterloo
Rogier van Otterloo (1941-1988) left his unique mark on popular music in The Netherlands in the 1970s and 1980s. He did so as arranger, conductor and composer for countless albums, projects, television programmes and from 1980 to 1988 as chief conductor of the Metropole Orkest.