Summer Tour 2019
8 augustus 2019
In August 2019, the orchestra members gave energetic gigs at the NJO Music Summer and the Grachtenfestival. The musicians gave three concerts in total at special locations in the Netherlands. They were led by the Japanese Miho Hazama, who had several times already conducted the Metropole Orchestra, Jong Metropole's big brother.

Aftermovie of the Friday night concert of August 9 in Zuiderparktheater in the Hague

Friday night concert of August 9 in open air theater 'Zuiderparktheater' in the Hague (photo Pieter Kunnen)
This unique orchestra presented a dynamic and swinging program with works from Duke Ellington, John Williams and a new composition by Tijn Wybenga (winner of the Rogier van Otterloo Award 2018). The concerts were a great mix between old and new.
Rogier van Otterloo Award
The young composer Damiano Pascarelli (1987) received the Rogier van Otterloo Award during the concert in Radio Kootwijk. Damiano is a versatile composer, arranger and conductor. He has arranged for the best (jazz) orchestras in Europe, and he already regularly collaborates with the Metropole Orchestra and its chief conductor Jules Buckley.

The jury was impressed by the talent of the Italian student of the Conservatoire of Amsterdam: 'Pascarelli leaves a lot of space in his music that does not disturb anywhere, shows a lyrical expressiveness and timeliness: a contemporary approach to composing and arranging within a idiom drenched in history.'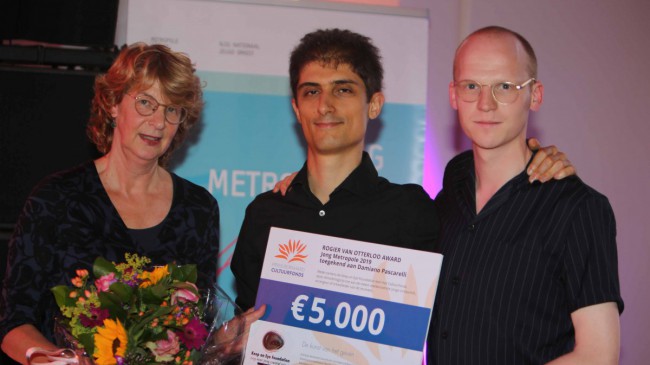 Saturday night August 10th in Former Broadcasting Station Radio Kootwijk (photgraphs Pieter Kunnen)

Sunday afternoon August 11th at the Amsterdam Grachtenfestival (photo Ronald Knapp)