Summer Tour 2018
10 augustus 2018
In 2018, Jong Metropole was conducted by multi-Grammy Award winner Vince Mendoza. The 48-piece orchestra performed works from, amongst others, Duke Ellington, Vince Mendoza and Anton Goudsmit. Jong Metropole kicked off the 2018 Summer Tour in Former Broadcasting Station Radio Kootwijk on the evening of Friday 10 August. The following evening, the young talented orchestra played in the Castle Garden Theater (Slottuintheater) in Zeist. The series of three concerts ended on Sunday 12 August with an atmospheric performance at the Amsterdam Grachtenfestival.

Jong Metropole in Radio Kootwijk (photo Pieter Kunnen)
Watch the aftermovie of the concert at the Castle Garden Theater in Zeist:
The Grachtenfestival produced a vibrant report of the concert by Jong Metropole for the Compagnietheater in Amsterdam:
And NTR also produced a colourful report of Jong Metropole at the Grachtenfestival (starting at 32 minutes and 28 seconds):
Keep an Eye Outstanding Talent Award 2018
The winner of the Keep an Eye Outstanding Talent Award 2018 is Tim Hennekes! The drummer of Jong Metropole 2018 was the most promising musician this year and therefore won the prize. He can spend the prize money of € 2,500 on his development as a musician. He also received a sculpture from the hands of Wimar Jaeger, Executive Councillor for Culture in Hilversum. You can read more about the Award here.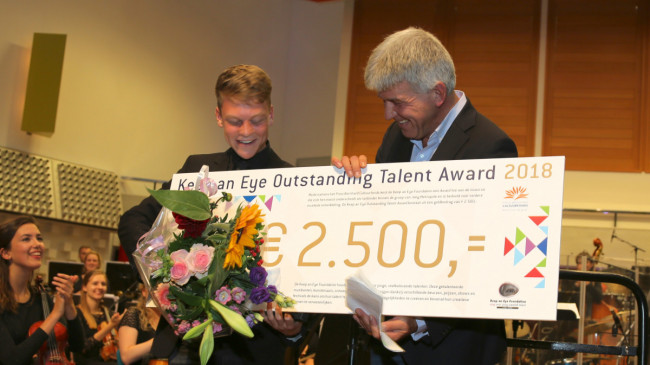 Photo Pieter Kunnen
Rogier van Otterloo Award
The winner of the Rogier van Otterloo Award 2018 was composer Tijn Wybenga. Tijn (1993) studied jazz piano at Conservatorium van Amsterdam. With his Collective AM.OK he bridges the gap between contemporary jazz, classical and electronic music.

Jong Metropole conductor and composer Vince Mendoza said the following about Tijn: 'He's writing with authority and individuality, understanding the need for a varied language of expression for film, stage and studio. And that's what Rogier was all about. I look forward to hearing what Tijn has in store for us in the future.'

Photo Pieter Kunnen