Summer Tour 2017
11 augustus 2017
In 2017, Jong Metropole was led by the highly talented German Christian Elsässer. The then 33-year-old composer, pianist and conductor has worked with big names such as Vince Mendoza and the Metropole Orchestra. You can read what Christian Elsässer said about the Jong Metropole concerts in this interview (only in Dutch) with Keep an Eye Foundation. Guitarist and composer Anton Goudsmit was the soloist during the 2017 Summer Tour.
Four concerts
Jong Metropole gave four gigs throughout the Netherlands this summer. On 11 August, the talented musicians gave a performance in the former Radio Kootwijk broadcasting station. The sold-out concert was part of the NJO Summer Festival.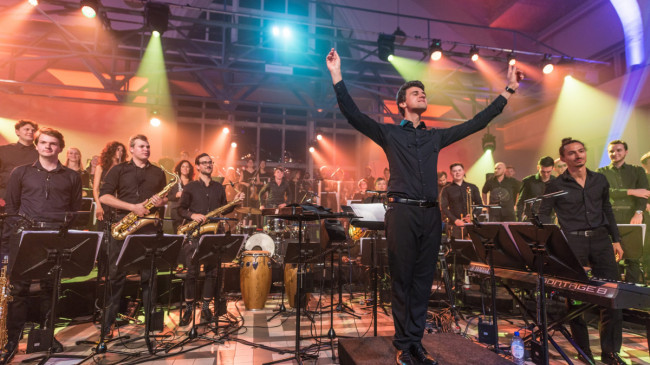 photo Nic Limper

A fragment of the spectacular performance in Radio Kootwijk
Jong Metropole also played in open-air theatre Caprera Bloemendaal and on the pontoon in front of the Compagnietheater in Amsterdam on 12 and 13 August (part of Amsterdam Grachtenfestival). The orchestra gave another concert on Saturday 9 September at the Broadcasting Music Centre ("Muziekcentrum van de Omroep") in Hilversum during the Open Studio Days.
Keep an Eye Outstanding Talent Award 2017
Violinist Esin Yardimli Alves Perreira won the Keep an Eye Outstanding Talent Award 2017. She received this award due to her qualities as a connector between the worlds of classical and light music. Read more about this award here.
Rogier van Otterloo Award
The winner of the Rogier van Otterloo Award 2017 was composer, arranger and conductor Jesse Passenier. Read more about the award here.

Photo Nic Limper
On Monday, 14 August, RTV Apeldoorn dedicated an entire news broadcast to the concert given by Jong Metropole on Friday, 11 August in Radio Kootwijk. Take a look at the broadcast (only in Dutch) including interviews with the winner of the Rogier van Otterloo Award 2017, Jesse Passenier, and director of the NJO National Youth Orchestra, Miranda van Drie: